I mange år brugte darwinister heste og deres mange variationer som kronvidne for deres teori om evolution. Men da man senere fandt ud af at det slet ikke holdt vandt skrinlagde man "bevisførelsen" og fandt på andre ideer. Den vigtiste lige for tiden er hvalers påståede udvikling fra oprindeligt at have foretaget en udvikling fra landpattedyr til havpattedyr. men også denne teori er faldet på jorden. Alligevel fortsætter populære medier og naturhistoriske museer med at viderebringe en illustration hvor en kunstners fantasi har tegnet hale og finner på et dyr udelukkende ud fra fantasien. Men den palenotolog som fandt fosilet indrømmer i et interview at det er ren fantasi. Der er ingen evidens for at det var en mellemform mellem hvale og landlevende dyr. Han sagde til kunstneren at han skulle tegne det på.

Darwinister mente det måtte være sket den vej og ikke som med andre dyr fra vand til land. På et tidspunkt finder paleontologer så et fossil som de kan se passer præcis på deres teori om at hvalen oprindeligt var et landpattedyr. De fandt en såkaldt "tansitional form" (en mellemform mellem det landlevende pattedyr før det bliver til en hval.
Det er et enormt vigtigt, det her, mener evolutionister når man ved hjælp af en teori kan ligefrem FORUDSIGE sammehænge som man endnu ikke har observeret, og så finder dem senere, så er det den ypperligste form for evidens der eksisterer indenfor videnskab. Man taler nemlig om triviel evidens og så den langt højere form for evidens når man ved hjælp af teorien ligefrem kan forudsige hvordan verden må hænge sammen FØR man har observeret det.
Fosilet de fandt kalder man Rodhocetus. [Læs artikel om den her]. Problemet er bare at fosilet hverken havde finner eller hale. Disse knogler var ikke med. Men man tegnede dem bare på som om de havde eksisteret og udstillede tegningen på naturmuseerne. De paleontologen som fandt fossilet blev spurgt om hvorfor selve udstillingen af fossielts knogler ikke stemmer overens med tegningen, så svarer han at han selv fandt på det. Der var ingen evidens for at det var ssåledes, indrømmer han på en video, som kan ses her. Han siger: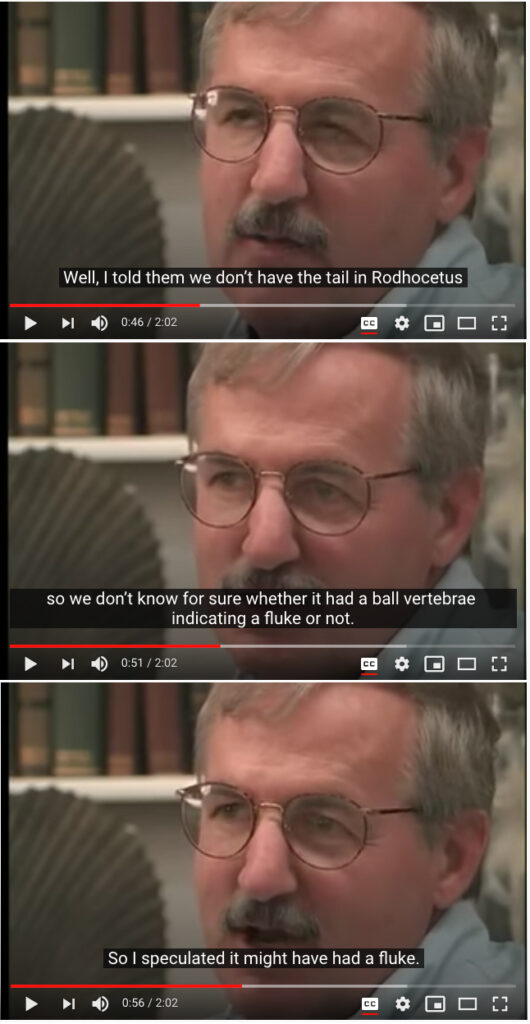 Phil Gingerich sagde yderlige:
Now since then we've found the forelimbs, the hands and the front arm, the arms in other words of Rodhocetus.And we understand that it doesn't have the kind of arms that can be spread out like flippers are on a whale. And if you don't have flippers, I don't think you can have a fluked tail and really powered swimming. And so I now doubt that Rodhocetus would have had a fluked tail.

Dr. Phil Gingerich

I denne video bruger _______ netop denne "hval"-fossil som bevis. Men ved nærmere undersøgelse, er det altså for længst vist at selv fossilets finder afviser teorien.